Effects
The lost painting of Vincent Van Gogh, with all his customary powerful primary colors and bottled angst. Whenever any kind of gust of air blows against the painting, strong winds and autumn leaves begin blowing out of the painting.
History
It was stolen from a museum during WWI, and whenever it has been spotted, death has followed. Sally Stukowski, who accompanied Artie and Steve on their retrieval mission, and deliberately alerted them to the presence of the artifact, helped them snag it. She did it because she hid a swarm of nanobots in the painting and, once the artifact got back to Warehouse 13, the nanobots began multiplying and hacking the Warehouse computer for Walter Sykes. It's currently in the Warehouse 13 art gallery.
It was first discovered after an art curator fell from a second story window. It was reported as suicide, but the victim hadn't shown any signs of depression, and although he only fell 2 stories his body looked like he fell out of an airplane. Also, the window was broken, and, since it was made of safety glass, it seems highly improbable he was able to break it himself. There were also autumn leaves scattered all over the crime scene.
This artifact was stolen by the Brotherhood of the Black Diamond as a warning to Artie, but was retrieved.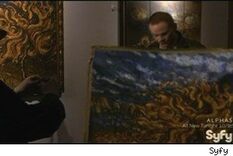 Label
VINCENT VAN GOGH STORMY NIGHT
WARNING: MOVEMENT OF AIR CAUSES TORRENTIAL STORM TO MANIFEST FROM PAINTING
ARTIST: VINCENT WILLEM VAN GOGH

DATE CREATED: 1889
MEDIUM: OIL ON CANVAS
SIZE: 45" x 37"
WEIGHT: 566.2 g
ITEM REF# 2839 - 1928- 1001
DATE REF: 212309 - 1093
ARCHIVED BY: AGENT NIELSEN
SECTION: SULCACO 84-C (W13 GALLERY)
STATUS: CONTAINED
AISLE: WG 34920
Appearances
Trivia
In reality, Van Gogh never actually created this painting, but it is a parody of one his most famous paintings called 'Starry Night'.
When Artie and Steve snagged the painting, they replaced the original with a copy created by Memory Paper from Johannes Gutenberg's Press so the art gallery wouldn't notice they snagged the artifact.  
Community content is available under
CC-BY-SA
unless otherwise noted.