Miles Davis was an American jazz musician, trumpeter, bandleader, and composer. Widely considered one of the most influential musicians of the 20th century. He was inducted into the Rock and Roll Hall of Fame in 2006 and is recognized as a key figure in the history of jazz. On October 7, 2008, his 1959 album "Kind of Blue" received its fourth platinum certification and is considered his masterpiece.
This Trumpet plays by itself when around people. It has the power to hypnotize large groups of people at once.
Kept in the Dark Vault, this trumpet was seen at least twice in the whole series. First, it appeared at the first time Pete, Myka and Claudia entered the Dark Vault. Second, when Artie and Myka moved the artifacts back into the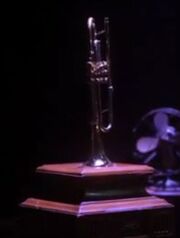 new Dark Vault and was repeatedly calmed down by Artie with a canister of Neutrilzer as Myka's high emotions were causing the trumpet to react.
Community content is available under
CC-BY-SA
unless otherwise noted.