A Waffle Iron owned by the inventor of the Belgian waffle Maurice Vermerch. It makes amazing tasting waffles, but eating them causes the consumer's skin to melt.
The artifact was part of Walter Sykes' cache of artifacts; it was collected by Claudia and Steve.
Real World Connection
In 1964, Maurice Vermersch and his wife arranged to sell waffles at the World's Fair held at Flushing Meadows, Queens, New York.  He sold them at the Belgium Village there (a recreation of a medieval Belgian village) and at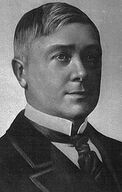 several places throughout the fair grounds. His technique was to use yeast as the leavener, and grease the waffle irons with lard. He served them with strawberries and whipped cream, and sold them for a dollar. He started off by calling them "Brussels Waffles." Realizing that most Americans didn't know where Brussels was, within a few days of selling them, he decided to call them "Bel-Gem" waffles, in a take on "Belgian Waffles". Someone also claimed Maurice Vermersch was running a Belgian waffle stand at the 1996 New York State fair. Today we recognize Vermersch as the inventor of the Belgian Waffle.
Appearances
Community content is available under
CC-BY-SA
unless otherwise noted.