A set of pickup sticks belonging to Frank Lloyd Wright's son, Frank Lloyd Wright Jr.
He would play with the pickup sticks as he watched his father work and he'd often try to recreate what he saw his father building.
These pickup sticks can assume any configuration required by the user when thrown. However, the structures can become unstable after a short period of time.
Artie mentioned they got him out of a bad scrape in '94. This artifact was presumably destroyed when Artie tried to save the Regents by forming a ladder with them, only for the Berlin Wall Spray Paint to dissolve them before Myka and Jane Lattimer could climb down.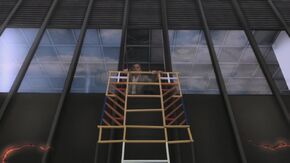 Frank Lloyd Wright, Jr., commonly known as Lloyd Wright, was an American landscape architect and architect, active primarily in Los Angeles and Southern California. His name is frequently confused with that of his more famous father, Frank Lloyd Wright, who was also an architect. Wright designed and built a number of houses in the Hollywood and Los Feliz districts of Los Angeles in the mid- to late 1920s. The dramatic and theatrical Mayan-inspired John Sowden House has become his most iconic structure and is usually regarded as his best work.
Community content is available under
CC-BY-SA
unless otherwise noted.