This helmet was worn by the french heroine saint, Joan of Arc who lead various victories during the Hundred Years' War.
Joan of Arc is considered a heroine of France and a Roman Catholic saint. She was born to a peasant family at Domrémy in north-east France. Joan said she received visions of the Archangel Michael, Saint Margaret and Saint Catherine instructing her to support Charles VII and recover France from English domination late in the Hundred Years' War. The uncrowned King Charles VII sent Joan to the siege of Orléans as part of a relief mission. She gained prominence after the siege was lifted in only nine days. Several additional swift victories led to Charles VII's coronation at Reims. On May 23rd 1430, she was captured at Compiègne by the English-allied Burgundian faction, was later handed over to the English, and then put on trial by the pro-English Bishop of Beauvais Pierre Cauchon on a variety of charges, was convicted on May 30th 1431 and burned at the stake when she was about 19 years old.
Effects unknown.
Set in the alternate Warehouse 13 created by Paracelsus. Hugo was going to experiment on Artie with this artifact, but he told Artie it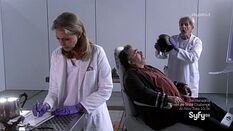 wouldn't "hurt very much".
Community content is available under
CC-BY-SA
unless otherwise noted.