Hans von Bülow's Piano Wire is an artifact composed of a thin piano wire taken from his favourite piano.
This Piano Wire is capable of perfect conductivity of any sound or current that passes through it.
When the wire is installed within a piano, it gives the player brilliance in playing skill. It has a cost of becoming tactless with others.
Used by Artie, Myka and Steve to neutralize Leonardo da Vinci's Gargoyle. Artie ran an electric current from the Tesla Targetting Coil through the Wire and wrapped the Wire around an arrow. Steve lured the Gargoyle in close in order to give Myka the oportunity to shoot the arrow into it and then Artie ran the electric current through the Wire to deactivate the Gargoyle and cause it to crash down into the Warehouse floor.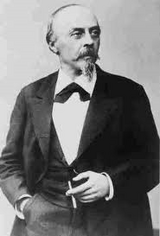 Han von Bulow was a German conductor, pianist, and composer that was one of the most famous conductors of the 19th century. He was also one of the earliest European musicians to tour the United States. Notoriously tactless, Hans von Bülow alienated many musicians with whom he worked. He was dismissed from his Zürich job for this reason, but at the same time he was beginning to win renown for his ability to conduct new and complex works without a score. During the 1850's and early 1860's, he was active as a piano recitalist, conductor, and writer, and became well-known throughout Germany as well as Russia. From 1878 to 1880 Hans von Bülow was Hofkapellmeister (person in charge of music-making, lit. "court orchestra master") in Hanover, but was forced to leave after fighting with a tenor singing the "Knight of the Swan" role in Lohengrin (von Bülow had called him the "Knight of the Swine"). Some of his orchestral innovations included the addition of the five-string bass and the pedal timpani; the pedal timpani have since become standard instruments in the symphony orchestra. His accurate, sensitive, and profoundly musical interpretations, established him as the prototype of the virtuoso conductors who flourished at a later date. He was also an astute and witty musical journalist.
His wife, Cosima, was the daughter of Franz Liszt, and had an affair with Richard Wagner which resulted in two daughters, Isolde and Eva, who were born during her marriage to Von Bulow, but were fathered by Wagner. She divorced Von Bulow in 1870, two years after she left him to live with Wagner and their daughters. Nevertheless, Von Bulow remained a passionate devotee of Wagner's work, mourning his death in 1883 and continuing to conduct his work.
Community content is available under
CC-BY-SA
unless otherwise noted.