Edna St. Vincent Millay's poem "First Fig" had a line: "My candle burns at both ends. It will not last the night. But, ah, my foes, and oh, my friends, it gives a lovely light."  The artifact apparently stems from this line.
When both ends of the candle are lit and wax from it is splashed on a person, they are split into two separate people: one fun loving and wild, the other hard-working and focused. The two will remain separated until one is rendered unconscious, at which point they rejoin and any injuries or ailments suffered by one of them will be transferred to the reunited person. 
In "A Touch of Fever" this artifact was mentioned to have been in the Warehouse and effectively effects the canon. So to avoid confusion, it has been listed as both candles in separate sections.
This artifact was discovered when a college student named Charlie Bats broke his spine in three places while giving a class presentation. Charlie's teacher said Charlie is normally a slacker, but this presentation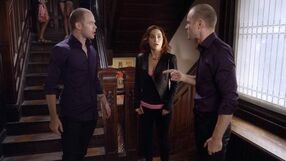 he was giving was actually really good and also the teacher said Charlie doesn't drink, but the doctors found enough alochol in his blood to declare him legally drunk while he was giving that presentation. Claudia and Steve talked to Charlie's roommate and he said Charlie was partying hard the night before and half an hour before he gave his presentation he was barely walking in a straight line. Claudia and Steve found Charlie's cell phone at the place his roommate saw him last and it had a video of Charlie falling off a bridge with the time stamp being the exact time Charlie was in class. 
Claudia and Steve eventually learned, Charlie belonged to a fraternity that was using the candle so members could be in two places at once. One user is studying hard and going to class while the other is at the fraternity's house partying. 
Artie said "Heaven help us all if either end were ever lit again" when asked about it. Artie also said that it was her poetry that "stirred things up".
Community content is available under
CC-BY-SA
unless otherwise noted.