Usage
When tea is brewed in the pot and is drunk from one of the tea cups, the drinker's precuneus lobe, the human brain's imagination center, is stimulated, explaining Potter's literary and fantastical career. However, it also can cause suppressed memories and thoughts to become conscious and provoke a panic attack in the user.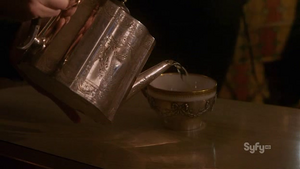 History
Beatrix brewed tea she made from a rare fungus in the pot during her time as a mycologist. Drinking the tea is what probably caused Beatrix to begin writing children's stories. However, as the tea set can also bring out the darker parts of the user's subconscious Beatrix's earliest rough drafts were more like dream journals than children stories and they had much darker plots to them i.e. in one story Peter Rabbit gets caught in a trap set by Farmer MacGregor and has to chew off his own leg to escape. 
Three of the tea cups were already in the Warehouse, but the pot and the last cup were still missing. They were finally located in Eureka (the setting of another Syfy show) when Douglas Fargo had created a virtual reality game. However, he couldn't find a way to make the brain accept the reality to the game, so he decided to cut corners by using an artifact. Fargo didn't know that the artifact also brought out what's in a person's subconscious. The players' worst fears started to become real in the game, and Fargo and his friend became trapped there. With the help of Pete, Myka, and Claudia, Fargo and his friend managed to escape the game, and the last of Beatrix's tea set was consigned to the Warehouse.
At the start of A New Hope, a shocked Pete looks at the artifact's melted remains.
Real World Connection
Beatrix Potter was an English author, illustrator, and natural scientist best known for her children's books and classic animal characters like Peter Rabbit, Jeremy Fisher, Jemima Puddle-Duck, and Mrs. Tiggy-Winkle. The tiny books, which she designed so that even the smallest children could hold them, combined a deceptively simple prose, concealing dry North Country humor, with illustrations in the best English watercolor tradition. During her summer trips with her parents, Potter also closely studied fungi, of which she made detailed drawings; she wrote a paper on spore germination that was read before the Linnean Society in 1897.
Appearences