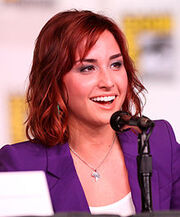 Allison Glenn Scagliotti-Smith portrays Claudia Donovan on Warehouse 13. She is an American actor most famous for her work on Syfy's Warehouse 13, but also known for her recurring role on Nickelodeon's Drake and Josh as the snarky Mindy Crenshaw, who had a similar personality to Claudia Donovan.
Personal life
Allison "Scags" Scagliotti was born on September 21, 1990 in Monterey, California. Her parents divorced when she was two. When she was seven, she moved to Mandeville, Louisiana. She soon showed an interest in acting when she joined her school's drama club. Today, she shows an interest in punk rock music, specifically Courtney Love and Joan Jett. She also rather enjoys comic books.
Career/Filmography
Scags's first role was in 2002, when she was 12, where she portrayed Molly Potts in the TV show, America's Most Terrible Things. After this, Allison landed several small television roles on shows such as Zoey 101, One Tree Hill, CSI, and Drake and Josh. Her first lead role was in Redemption Maddie (2007), where she played Maddie Clifford. She will soon be appearing in the indie film Losers Take All.
Movie Roles
Year
Title
Role
2006
The TV Set
Bethany
2007
Redemption Maddie
Maddie Clifford
2009
Endless Bummer
Iris
2011
My Name is Jerry
Trisha
2011
Losers Take All

Simone

2012

Chastity Bites
TV Roles
Year
Title
Role
2002
America's Most Terrible Things
Molly Potts
2003
Once Around the Park
Rose Wingfeild
2004
Joint Custody
Meg
2004
Grounded For Life
Kristen
2004
Back When We Were Grownups
Emmy
2004-2007
Drake and Josh (recurring role)
Mindy Crenshaw
2005
Zoey 101
Stacey
2006
Read it and Weep
Sawyer Sullivan
2006
ER
Josie Weller
2006-2007
One Tree Hill
Abby Brown
2008
Gemini Division
Hera Theophilus
2008
Merry Christmas, Drake and Josh
Mindy Crenshaw
2009
CSI
Jemma
2009
Party Down
Taylor Stiltskin
2009
Mental
Heather Masters
2009
Smallville (guest star)
Jayna
2009-2012
Warehouse 13 (main cast)
Claudia Donovan
2010
Eureka (one episode)
Claudia Donovan
2010
Ghost Hunters Live
Allison Scagliotti
2011-2012

Warehouse 13 Webisodes:

Of Monsters of Men

Grand Designs

Claudia Donovan
Trivia
As revealed in "Some of Allison's Favorite Things," Allison Scagliotti chose the Euphoria Record as the artifact she most wanted to take home.